Meet The Team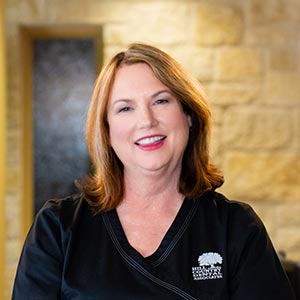 Beverly
Bev's passion for dentistry runs in the family—her grandfather was a dentist! She has over 30 years of dental experience and feels honored to provide quality dental care to her patients.
She attended Tivy High School and went on to receive a degree in Dental Hygiene from the University of Texas Health Science Center, San Antonio, in 1989. After completing her degree, she provided dental hygiene care to children in rural North Dakota and to Aggies in College Station, Texas, before returning to Kerrville.
Bev has a loving daughter, Kristin, and she is very proud of her accomplishments. Kristin has degrees from American University and Yale University. She works in the aerospace industry.
When she's not polishing up a smile, Bev enjoys community involvement. She loves attending First Presbyterian Church, Kerrville, where she has served as a deacon and Sunday school teacher.