Meet The Team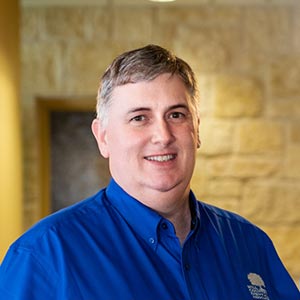 Dr. Jamie Bone
Dr. Jamie Bone grew up in San Antonio, Texas. Prior to attending dental school, he received Bachelor's Degrees in economics and biology from UT Austin and UT San Antonio, respectively. He went on to earn a Master's Degree in biology from UT San Antonio before graduating in 1999 from the School of Dentistry at the University of Texas Health Science Center at San Antonio. Following graduation, he completed the General Practice Residency (GPR) at UT Dental Branch—Houston and Hermann Hospital.
He met his wife, Jennifer, when they were both dental students, and they married in July of 2000. Following Dr. Jennifer's dental school graduation in 2001, they moved to Kerrville and purchased Dr. Emil C. Willmann's practice. In 2005, they expanded by purchasing the practice of their neighbor, Dr. Jay Burditt.
Since 2001, Drs. Jamie and Jen have built upon their vision of developing a quality-driven and relationship-focused group practice in the Texas Hill Country. In addition to their efforts within the practice, they are both active in the community. They both have volunteered for the Salvation Army Dental Clinic since coming to Kerrville, and they are members of the First United Methodist Church. He and Dr. Jen served as Dental Co-Chairs for the 2017 Texas Mission of Mercy in Kerrville, and they'll serve as Dental Co-Chairs again for the 2nd Texas Mission of Mercy in Kerrville, to take place in the fall of 2019
Dr. Jamie is a part-time Associate Professor in the Advanced General Dentistry Residency Program at the UT School of Dentistry at San Antonio. He currently serves as a Director for the Texas Dental Association. He has previously served in the following dental leadership roles:
President, Texas Academy of General Dentistry (TAGD)
President, San Antonio District Dental Society
President, San Antonio Component of the Academy of General Dentistry (SACTAGD).
Founder and Director, TAGD Master Study Club
Founder and Director, SACTAGD Student FellowTrack Program
Founder and Director, SACTAGD San Antonio Fellowship Exchange, a study club for new dentists
Dental Education Council Member, Academy of General Dentistry (AGD).
Dr. Jamie received his Mastership in the Academy of General Dentistry (MAGD) in 2010. This award signifies that a recipient has completed at least 1100 hours of continuing education (including at least 400 hours of hands-on courses) and has passed an exam covering all aspects of general dentistry. In 2015, he received AGD's "Life Long Service Recognition" honor. He has been selected by his peers for inclusion in the Texas Super Dentist list annually since 2012.
Dr. Jamie has attained his Fellowship in the following organizations:
In their spare time, Drs. Jamie and Jennifer (He-Bone and She-Bone, as they are affectionately referred to around the office) enjoy hiking, traveling, and working on do-it-yourself projects around the house.