Meet The Team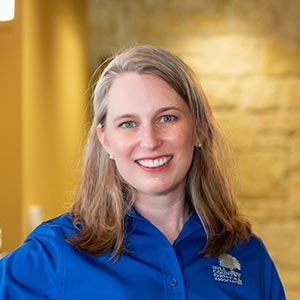 Dr. Jennifer Bone
Dr. Jennifer Bone was raised in Katy, Texas. She earned a Bachelor's Degree with honors in secondary science education from Oklahoma Baptist University and then went on to the School of Dentistry at the University of Texas Health Science Center at San Antonio (UTHSCSA), where she and Dr. Jamie met. They were both active in extracurricular organizations, served as class officers, and received awards for clinical excellence. They were married in July of 2000. Following Dr. Jen's dental school graduation in 2001, they moved to Kerrville and purchased Dr. Emil C. Willmann's practice. In 2005, they expanded by purchasing the practice of their neighbor, Dr. Jay Burditt. Dr. Jen returned to school part-time from 2007 to 2009 to complete an Advanced Education in General Dentistry residency program at UTHSCSA.
Since 2001, Drs. Jamie and Jen have built upon their vision of developing a quality-driven and relationship-focused group practice in the Texas Hill Country. In addition to their efforts within the practice, they are both active in the community. They both currently volunteer in the Salvation Army Dental Clinic and are members of the First United Methodist Church. She and Dr. Jamie served as Dental Co-Chairs for the 2017 Texas Mission of Mercy in Kerrville, and they'll serve as Dental Co-Chairs again for the 2nd Texas Mission of Mercy in Kerrville, to take place in the fall of 2019.
Dr. Jen often speaks to school groups about dental health care and dentistry as a profession. She is a past President of the Kerrville Junior Service Guild and previously served on the board of directors for Riverside Nature Center and for Kerrville ISD's Head Start Health Advisory Board.
She currently serves as President-Elect for the Texas Academy of General Dentistry (TAGD). Her other previous dental leadership roles include:
President, Heart of Texas District Dental Society (the local component of the Texas Dental Association)
President of the San Antonio Component of the TAGD
Dental Practice Council Member, Academy of General Dentistry
Communications Committee Chair, Texas Dental Association.
Dr. Jennifer received her Mastership in the Academy of General Dentistry (MAGD) in 2010. This award signifies that a recipient has completed at least 1100 hours of continuing education (including at least 400 hours of hands-on courses) and has passed an exam covering all aspects of general dentistry. In 2015, she received AGD's "Life Long Service Recognition" honor. She has been selected by her peers for inclusion in the Texas Super Dentists list annually since 2013.
Dr. Jennifer has attained her Fellowship in the following organizations:
The American College of Dentists
The International College of Dentists
The Academy of Dentistry International
In their spare time, Drs. Jamie and Jennifer (He-Bone and She-Bone, as they are affectionately referred to around the office) enjoy hiking, traveling, and working on do-it-yourself projects around the house.